Description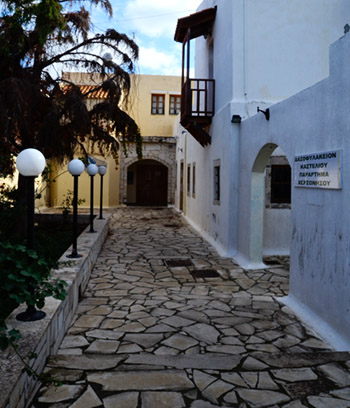 Piskopiano is a traditional settlement at the foot of Mount Harakas and is located between Hersonissos and Koutouloufari. Piskopiano is set in an amazing location with panoramic view of the cosmopolitan beach of Hersonissos and of course the sea and sky that spread forward.
Piskopiano is 26 km east of Heraklion and 2 km south of Hersonissos Harbor, and is a village of 450 inhabitants. Its inhabitants are mainly engaged on livestock farming, olive growing and tourism. Piskopiano seems to have been developed during the Middle Ages when pirate raids on the coast forced the residents of the region to seek safety away from the sea. So, in this way, the first mention of the existence of the village was made in 1379, during the period of which it belonged to the bishopric of Hersonissos (Casale Piscopiano de Chersonisso). Some years later, in 1583, the village was mentioned as a small village with 111 inhabitants.
In Piskopiano, the tradition is revived through the picturesque narrow streets that cross the traditional neighborhoods, with the beautiful stone-built houses where simplicity and Cretan architecture prevail. The area is an ideal place for those looking for relaxing and tranquil holidays. Food and drink can be found in the taverns and the traditional cafes of the village. Accommodation is guaranteed by many hotels of all categories, with furnished apartments in restored manors and many rooms to let.
In Piskopiano, one can visit the church of Agios Ioannis Prodromos (Saint John the Baptist), which was built in the 16th century, with some additions made in the following years and the ruins of a basilica of the 6th century. Part of the sculptural decoration, capitals and column bases are exhibited at the Museum of Heraklion. In addition, the visitor can visit the Menelaos Parlamas Museum of Rural Life & Theano Metaxa-Kanakaki Weaving Collection which is a lively museum of local tradition. It is a museum with exhibits and collections from the Cretan countryside and the folk farmhouse, from the late 19th century until the middle of the 20th century which offers the chance to visitors to see and experience the everyday life of the Cretans.