Description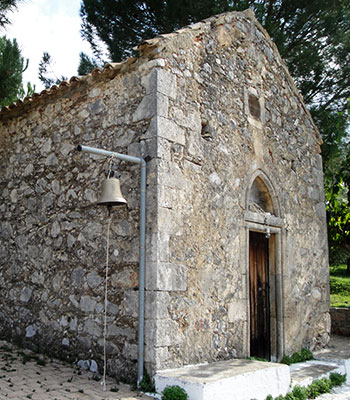 It is a single-nave, barrel vaulted, cemeterial church with rich wall paintings that emphasize especially in the cycle of Miracles and Passions of Jesus. In the sanctuary there is a partial painting, depicting Christ Pantocrator (Almighty), while on the east frieze there is the "Hospitality of Abraham" and the "Annunciation" and on the church arch, a part of the "Ascension of Jesus".
In the main church, the wall painting is divided into zones. In the central part of the south wall, a large part is covered with the "Rescue of Peter", while on a lower level there is the "Healing of the Demoniac" and the "Healing of the Paralytics". On the west side of the south wall, the "Raising of Lazarus", the "Entry into Jerusalem", the "Transfiguration" and the "Last Supper" are icon-painted. On the lower level of the south wall, there are the images of the Apostles Peter and Paul, St. George, four Saints, two of which are presented on a horseback. On the north wall, the icons include "Christ carrying the cross", the "Elevation of the Cross", the "Crucifixion", the "Descent from the Cross" and the "Epitaphios Lament" (Holy Friday Lamentation). On the same wall, there are also depictions of the "Washing of the Feet", "Christ on the Mount of Olives", the "Betrayal of Judas", "Jesus before Caiaphas", the "Mocking of Christ" and "Peter denies Christ". On the last zone, the lowest one, on the north wall, there are the images of St. Constantine and St. Helen, together with two couples of Saints.
The composition of the art work is full of tension and the figures are totally expressive and dramatic. This realism dates the paintings back to the 14th century.
Architecture: single-nave barrel vaulted
Dating: first half of the 14th century
Location: Potamies village (Afentis Christos or Lagadi area – Northwest of the village)
Celebration: 6th August
Hagiography: YES
Access : Relatively easy access from a country road
Visit Options: Open
No street view available at Google maps.