Description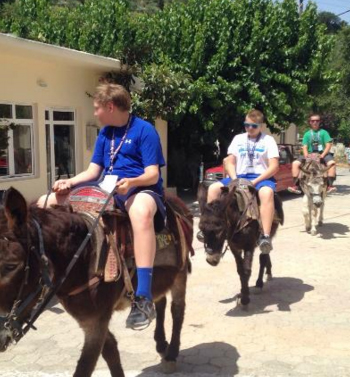 Kritiki Farma is a small farm, located in the village Potamies, which is just 10 kilometers from the tourist area of Chersonissos Port village.
Kritiki Farma, offers a variety of activities. First of all there are many kinds of animals such as goats, pigs, sheep, rabbits, birds, horses and donkeys. So anyone can visit Kritiki Farma just to watch the animals in the farm or to rent a donkey. There is also a bar, where one can have a cool drink and a tavern where home cooked food is served. Lastly, parties can be organized.
As far as the donkey safari is concerned, the first thing to do is to feed the animals with some vegetables and then to begin a life experience. Through olive and orange groves, everyone will enjoy the fantastic view of the village on the back of a donkey. When returning to the farm, a traditional Cretan lunch is offered with wine and of course raki.
Concerning the tavern on Kritiki Farma, home cooked food is prepared daily. The meat used in food comes from the farm, while the vegetables are grown by themselves. The oil used is theirs and the raki served is homemade.
Lastly, Kritiki Farma can organize parties such as birthday parties and baptism ones. The celebration would be a different experience for anyone who wants to live it. The parties can be organized in the way each one prefers.
Kritiki Farma is a different experience which adults and especially children will love. The different animals, the traditional food and the safari in the countryside are all ideal for people who want to live such experiences in a picturesque environment and in a traditional way.
No street view available at Google maps.