Description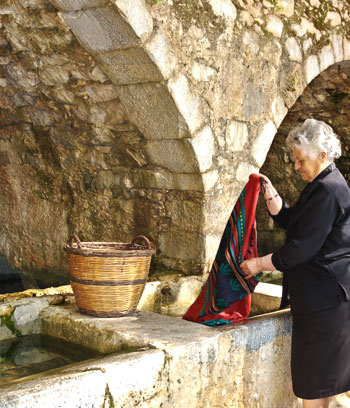 Krasi village belongs to the Municipality of Chersonissos. It is a mountainous village at an altitude of 600 meters and is less than 45 km from Heraklion city.
Point of reference of the village is the perennial huge plane tree whose trunk has got a perimeter of 24 meters and is branched into several arms. The plane tree is 2400 years old and it is said that each meter of its perimeter corresponds to 100 years. It is estimated that more than ten people are required to hug this giant trunk. This plane tree is among the 5 largest European trees. As stated by the Dutch forester, Jeroen Pater, there are 200 trees in Europe with a diameter more than 10 meters.
This plane tree is a whole ecosystem and the visitors are attracted by its beauty by coming from afar to admire it and it is located next to the beautiful arched water fountains. Recently, it was hit by a lightning strike and unfortunately, it lost about 8 meters from its height, but that was not enough to hurt this tree.
The perennial plane tree in Krasi is a monument of the nature and history of the place. With its wide foliage, it covers the square of the village in which the most central café is located. It is a place of relaxation for residents and visitors during the period of summer as its shade is a real pleasure on the hot days. It is known that Nikos Kazantzakis, this great writer, spent several summers in Krasi along with other people of art. This village was a place of rest and creation and was chosen, apart from Nikos Kazantzakis, by Markos Avgeris, Kostas Varnalis and the Alexiou family, who all set up the "literary company of Krasi".
Next to the plane tree, a stone-built aqueduct, with the arched stone water fountains is located. The fountains were built in 1890 by craftsmen from Mochos village, as evidenced by the inscription being there. The water fountains are two, the upper one and the down one. They are arched and each one has got a trough. Right next to the down water fountain, stone troughs of the village are located. There, the women of the village used to wash their clothes in the past. The waters come from Selena's mountain range and flow all year round. This project is still watering a large area and nowadays, these water fountains offer clear and cool water to visitors. Moreover, the visitors have the chance to see the old cluster of irrigation system consisted of flumes that worked for the transfer of water to the gardens and fields of the villagers.
Attributes
Travel activities

RECREATION

Location Malia Region

/

Krasi
Listing categories

RECREATION