Description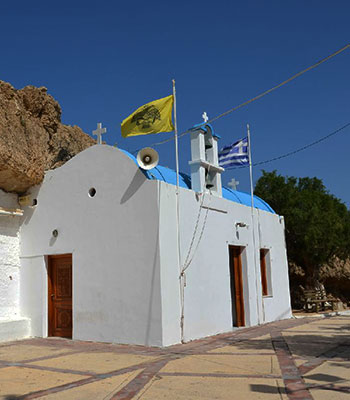 St. Paraskevi is a small, beautiful church that is built under a hewn rock, at the Kastri (Castle) of the port and it is a real jewel for Chersonissos Port village. Above the rock, there is the early Christian Basilica, known as Basilica B΄. On lower strata, below the Basilica, traces of habitation were found, which date back to the Early Minoan Period, the Classical Period, the Early Hellenistic Period, the Roman Period but also the Early Christian Period. So, there has been a continual use of the area throughout history.
Below the rock in Kastri, there is St. Paraskevi's church that was built in 1870. Around 1930, the church was extended to the east to serve the needs of the constantly increasing congregation. In 1990 it was icon-painted, but in 1994 the church was destroyed by fire and so was its hagiography. In the alcove of the church, which is hewn in the rock, there is a modern, wooden construction that follows the shape of the alcove.
On the quadrant there is the image of Platytera (Wider than the Heavens) and on the frieze the Above Prophets. The iconostasis is woodcut and contemporary, adorned with the icons of Archangel Michael, Vrefokratoussa (Infant Holder), Pantocrator (Almighty) and St. Paraskevi. There are two entrances to the church, one on the south side and one on the west side, next to an ancillary room.
Architecture: Rock-hewn cave
Dating: 1870
Location: Chersonissos Port – Kastri area
Celebration: 26th July
Hagiography: YES
Access: Easy access from the beach road
Visit Options: Open