Description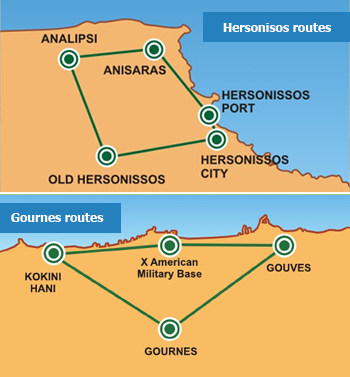 Train Tour runs daily from April until October and gives you the opportunity to see all the local area and feel the Cretan culture.
The 100 minute route "Village & City Tour" offers you a pleasant and picturesque tour that combines the traditional settlement of Old Hersonisos, the cosmopolitan Port and the beautiful beaches of Analipsis and Anissaras. During the journey you will have the opportunity to admire the traditional settlement and the picturesque narrow streets and churches.
The half day tour "Traditional Crete" offers you an interesting tour where you will have the opportunity to admire the natural beauty of Crete. You will see the biggest Golf Camp in Greece and admire the view of the lake next to the new river Aposelemis. You will be given the chance to walk through the narrow streets of traditional villages of Avdou and Gonies.
Should you need additional information please visit the Train Tour site.