Description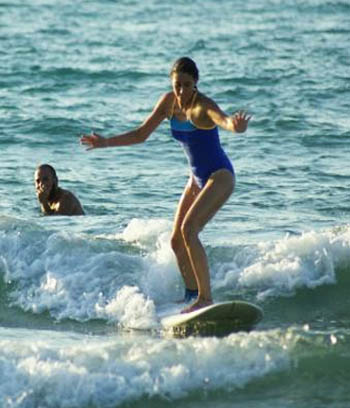 Surf In Crete is a company located in Arina Beach, Kokkini Hani and is just 5 minutes away from Heraklion Airport. Surf In Crete provides the basic education, the ideal spots, the services and the equipment needed in order for the surfers to get wet!
As far as the kitesurf is concerned, there are basic and advanced courses available. For those who think that kitesurfing is difficult, the experienced kite instructors qualified by the International Kiteboarding Organisation (IKO) are there to prove the opposite. There are three basic IKO levels, in order to master the kitesurfing skills and a single session in order for the guests to fresh up their memory and get the boost needed to live this experience. Lastly, there are advanced courses in order for the guests to make the next step. Kite clinics such as Freeriding clinic and Waveriding clinic are designed in order to learn how to jump, turn and ride and to learn the waveriding step by step accordingly.
Concerning the SUP (Stand Up Paddle) Surf and Surfing, there are 4 courses to each one of those mentioned before. SUP Surf Courses will help everyone from how to stand up and paddle to learn tips and tricks on different sized waves. The surf courses are for the brave ones who will learn from how to paddle and pop up to tricks of Surf by being careful all the time.
The SURFARI is a trip in order to find the appropriate wind and waves in an amazing destination. The excursions can be made all around Crete, Dia Island and Santorini Island. The VIP SURFARI is also available and is an experience that one should try once in a lifetime. There is the Big Blue Surfari for those being real extreme. The Surf In Crete provides the sailing boat for making this ultimate downwind experience happen. There is also the SIC Helicopter Surfari where surfers choose one destination and they just enjoy the flight while travelling there.
Surf In Crete gives everyone the chance and provides the conditions and of course the safety needed for kitesurfing, surfing and surfari in the island of Crete. Those who want to try and live this experience are going to be amazed and excited as the Cretan waters and the Mediterranean climate are the most appropriate in order to turn this experience into an experience of a lifetime.
Should you need additional information please visit the Surf In Crete site.