Description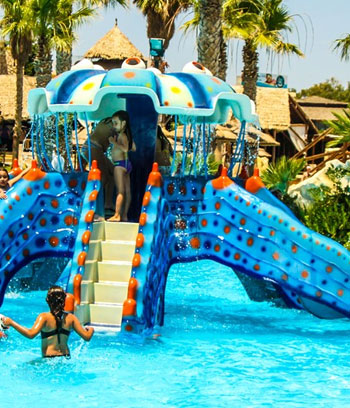 East of Hersonissos Harbor is located Star Beach Park. Star Beach is a famous seaside entertainment parks in Europe since 1993.
Set in a specially landscaped area of 4 acres, at the most beautiful spot of Hersonissos near the sea – just 50 meters away from the sandy beach- it consists of a large complex of swimming pools with water slides, a children's playground and free parking lot.
Star Beach offers everyone either young or old, joy, relaxation, games, unique fun options and of course exciting water adventures for the whole family. All these can be experienced with a free entrance and with really low prices in a friendly environment.
Children can have fun at the unique waterslides and various games and playgrounds in a completely safe and controlled environment. Swimming pools for babies, water fountains, playground and adventure park which are all original and safe for children. It is a park with several slides and pools of various dimensions and characteristics and water paths for keeping the adrenaline high.
The seaside entertainment along this part of coastline, for the most adventurous ones, includes extreme sports and activities from bungee jumping to parasailing for an adventure in the air. The water sports that one can do are: Jet Ski, Water Skiing, Scuba Diving, Banana, Flying Fish -which is an extreme version of banana- and tubes.
It has also restaurants and bars that in many cases during summers, host parties by the pool. There are four different bars for drinks, coffee and more and as far as the food is concerned, there are a restaurant, a fast food restaurant and a snack bar. Star Beach is also famous for its unique parties. Music and theme parties are organized almost daily. In the famous events of the summer, popular DJs play music exclusively from Star Beach decks and the fun keeps up until the morning.
There are many shops in Star Beach too such as mini market, clothes shop, cosmetics shop, jewelry shop, souvenirs shop, shoes shop and many more. In addition there is a Drugstore, hair salon, nails care hot spot, internet café and cars and motorcycles hire center. What is more, a fully equipped First Aid Center is available at Star Beach to offer its services in case of an injury of other accident.
Star Beach is an entertainment park which is open from April to October and it is easily accessible from all of the surrounding areas.
Should you need additional information please visit the Star Beach water park site.