Description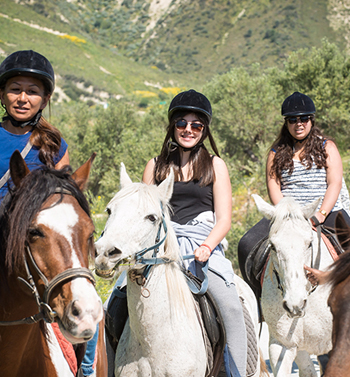 "Come as Guests & Leave as Friends but Safety comes first!" By having this as a motto, Gregory Karagiorgas and his family founded Finikia Horses in 1987 in Heraklion motivated by the love for horses providing simultaneously high quality of services and Cretan hospitality.
They offer horse riding tours to many destinations along the European Southern coastline and Cretan mountains. There are Finikia Horse Riding Tours in Finikia and Hersonissos Horse Riding Tours in Chersonissos Port village.
As for the Finikia Horse Riding Tours, each one can choose the Day Tour or the Romantic Moonlight Tour. Day Tour offers a variety of services. They can pick everyone from their hotels in the morning and start a day by exploring the amazing Cretan scenery while drinking coffee just before the horse riding lesson begins.
During this day, the riders and those who do not want to ride a horse will have the opportunity to stare at the view from the top of a mountain. Going back to the stables, the visitors will be served a full Greek traditional lunch combined with traditional homemade drinks before the returning to their hotels.
Concerning the Romantic Moonlight Tour, it starts in the evening. Riders and guests sitting on the wagon will enjoy the panoramic view and the Cretan sea during the amazing sunset. When returning to the stables, after the horse riding tour, the riders will experience a BBQ party with many surprises, eating Greek traditional dishes and drinking Greek drinks before their returning to the city.
As far as the Hersonissos Horse Riding Tours are concerned, everyone can experience the Sea & Mountain Riding Tour by exploring the Mediterranean coastline and enjoy the view offered from the mountain of Stalida village. All these of course will be on the back of a horse and thus making this experience one of a lifetime.
Horse Riding Tours offers also some special occasions such as a wedding proposal. By offering horses, Greek wine or champagne and basket with flowers, Horse Riding Tours will help, anyone who wants that kind of proposal, to organize a wedding proposal being remembered for a lifetime.
Lastly, Horse Riding Tours offers Ippotherapy. Its horses are certified by the Hellenic Scientific Association in order to provide therapies to people who face developmental, muscular and neuro-muscular issues, autism and those with reduced mobility. A crew, consisted of trained specialists such as Psychologists, Speech & Language therapists and Physiotherapists will provide what is needed.
Horse Riding Tours provides the safety and reliability to perform all the above mentioned, making everyone's holidays an unforgettable experience.
Should you need additional information please visit the Horse Riding Tours site.