Description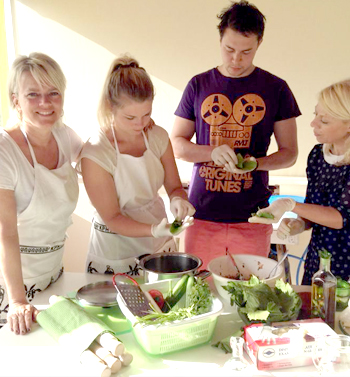 "From the Minoan times to nowadays, a unique way to cook, to eat, to live…!" By having this as a motto, Cretan Miracle Diet &Cuisine gives everyone the chance of living the total culinary experience in Crete.
Eleni and Giannis, being motivated for the love they have for the cooking experience and for the colors and flavors of the Cretan Cuisine, established the Cretan Miracle Diet &Cuisine company. Eleni and Giannis are very hospitable hosts and make guests feel like being at their home by offering simultaneously to them a taste of the Cretan hospitality and, of course, Cretan cuisine through the various and delicious recipes that will follow.
As far as the culinary experience is concerned, there are three different courses to choose. First of all, there is the "One Day Cooking Courses". This cooking course takes place at Eleni and Giannis' cooking home in Koxari village and includes a traditional Cretan Cooking Lesson lasting for four hours. During this lesson, guests will have the chance to learn the secrets of Cretan diet concerning health and wellbeing, learn how to cook those dishes through active participation in the whole process and afterwards eat what was cooked earlier. A folder including the recipes of the menu that has already been tasted by guests and a Cretan Miracle Certification for the participation will be given.
Moreover, guests can choose the "Private Cooking Courses" which is a private, four-hour cooking lesson taking place in a beautiful country house in Koxari village. In this culinary experience guests will learn how to prepare a complete meal which, afterwards, will be served in the veranda in summer or next to the fireplace in the winter. A folder with the recipes and the Cretan Miracle Certification for participation will be given too.
Lastly, there is the course "Our Cook with You" which is an original service of the Cretan Miracle Diet &Cuisine. A specialist in Cretan cuisine will be at guest's kitchen in order to plan a journey into Cretan tastes and aromas. This service can be planned for the whole day (or not) and thus breakfast, lunch and dinner can be prepared.
Cretan Miracle Diet & Cuisine guarantees that when Cretan diet meets Cretan hospitality, a unique experience emerges. So, this amazing culinary experience would be for lifetime.
Should you need additional information please visit the Cretan Miracle Diet & Cuisine site.