Description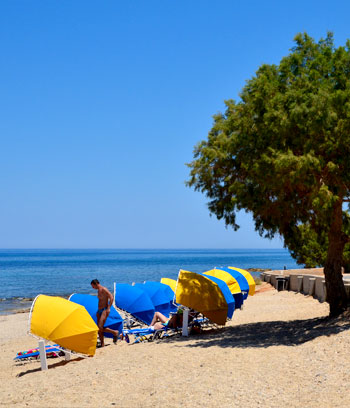 Anissaras village is located 24km east of Heraklion and 1 km west of Hersonissos. Anissaras is neither a village nor a town. It is a large, hilly area extending just outside Hersonissos and it is of exceptional beauty due to the long coastline that extends to its coastal front. The name Anissaras derives from the corruption of the word "Agisaras" (an area with many shrubby plants which in Greek are called "Agisaras or Aladania). This shrubby plant (Cistus Creticus) is a Cretan herb that abounds in the area. Some older Cretans still refer to this area as Agisaras.
Originally, the area was purely an agricultural one with fertile soil, dense vegetation and several wells. The inhabitants of the surrounding villages cultivated the land while the gardens with vegetables were a characteristic of this area. Anissaras began to develop in the last 20 years due to the tourism and nowadays in Anissaras, visitors can find large, luxury and high quality hotels which are autonomous and self-sufficient accommodating quality visitors. Beautiful beaches expand at a short distance from the main road and are fully organized by having courts, fields and spaces for tennis, volleyball and water sports. The clear crystal waters embrace the coastline while the rocky bottom of the sea will excite the swimmers and diving enthusiasts. In addition, there are some sandy beaches with shallow water and plenty of space for sunbathing and relaxation in front of large hotels. The area is a family destination and a place offered for quiet holidays.
At the eastern part of Anissaras, there is the picturesque chapel of Agios Georgios which is a church having a magnificent view across the bay of Hersonissos. A staircase leads to the beach, which has sunbeds and wooden scaffolds for diving into the sea. Nature lovers can enjoy nice short or long walks on the 3.5 km beach or on the surrounding hills and slopes.
Along the coastal road that connects Anissaras with Hersonissos the visitor will see many small beaches, known as Limanakia. In the surrounding area, the options for nightly entertainment and food are limited. However, there are some taverns and some shops and offices to rent a car, on the beach. For those who want intense entertainment, there is Hersonissos nearby which offers countless entertainment options.