Avdou : Dimitris Mistakidis concert
View Calendar
The Cultural Association of Avdou organizes a concert with Dimitris Mistakidis in Former Primary School of the village.
Entrance fee 10€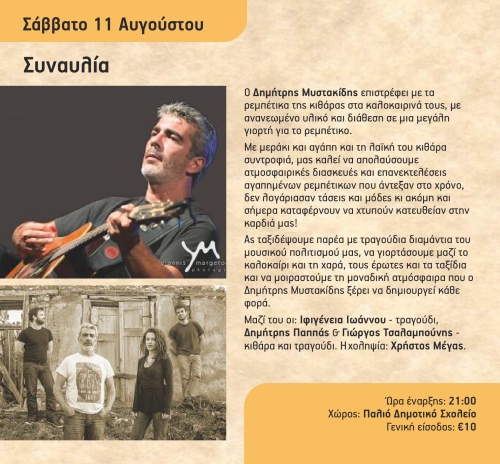 Related upcoming events
2018-08-24 21:00 - 2018-08-24 23:59

The Cultural Association of Chersonissos village is organizing a concert with Eleftheria Arvanitaki at the Municipal Sports Field (follow the link to locate it at Google Maps).

Ticket costs 10€, at the spot of the concert 12€
Tickets are sold at:
Mosaiko Cafe (Heraklion)
Super market Bagouraki (Chersonissos village)
Patisserie Sevasti (Episkopi village)

Map of location of the concert

2018-08-26 21:00 - 2018-08-26 23:00

A great concert titled "My Life Unleash" will be given by Stamatis Spanoudakis for the first time in Crete, at the Minoan palace of Malia, on Sunday August 26, 2018 at 21:00.

Along with him, the soloists join:

Giorgos Kontovas (piano)
Alexandros Papadiamantis (violin)
Dimitris Koutalidis (cello)
Panos Katsikiotis (drums)
Nikos Chatzopoulos (double bass)

the String Orchestra under the direction of Nikos Antonakakis
and the Choir of Malia.