Kopsas hill in Anopoli village of Chersonissos became a field of a heroic battle that on the one hand changed the German Conquerors' plans and on the other hand encouraged Greek fighters by giving them hope and strength to continue. The landing zone of the German paratroopers could be monitored from the Kopsas area and therefore, due to its geomorphology, served as the ideal defense position of a military unit of the Greek army.
In the morning of May 21st, on the Kopsas hill, eighty Greek soldiers led by lieutenant Theodoros Kallinos, fought bravely against two companies of German paratroopers who were attempting to approach the area of Heraklion airport from the Gouves plain.
The Greek soldiers, despite the fact that they had old-fashioned rifles with a limited number of bullets and a few Italian-style grenades, did not hesitate to confront the Germans who were numerically overcrowded, equipped with contemporary equipment and being highly trained.
The Germans initially managed to occupy the hill and forced the Greek soldiers to flee. But then, lieutenant Kallinos, defying the danger, stood up and fired upon the Germans. His heroic act encouraged the Greek Company, who, afterwards, managed to retake Kopsas hill and as a result, the battle ended in a Greek victory. Approximately 22 Germans were killed while nearly 40-50 German paratroopers were captured.
As far as the Greek Company is concerned, no one died, just a few Greek soldiers injured, despite the significant difference in power and fire between of them.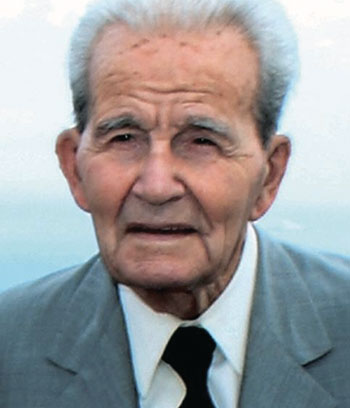 Lieutenant Kallinos recounted that a few hours after victory on Kopsas hill and during an attempt to exterminate a part of paratroopers who had found shelter on a farmhouse in the plain, the sergeant Orestis Andreadakis and the soldiers Manolis Kokkinakis and Ioannis Charitakis were killed.
"We will defend Crete by sacrificing our lives.
We gave an incredible body to body battle."
Theodore Kallinos
Company Commander
In the battle of Crete in May 1941.
The Municipality of Chersonissos, recognizing its high responsibility for preserving the collective memory and this eminent historical battle of superior importance for the local society, has already begun the process in order to establish the Battle of Kopsas as an official local holiday for the Municipality of Chersonissos.
The event is annually held on the hill of Prophet Elias in Anopolis village, in the Municipality of Chersonissos. It starts in the morning with Service at 7:00 and then it is followed a Memorial Service, a deposition of wreaths and speeches by the local authorities.